DIRECTIONS FOR ORDERING IKKF EMBROIDERED BLACK BELTS
The IKKF Honbu NO LONGER TAKES ORDERS FOR OBIS (belts) for its Yudansha Members.

IKKF Members CAN PLACE THEIR ORDERS DIRECTLY with one of the following recommended Belt Manufactures.

A Template for use in ordering your Black Belts is presented on the following graphic. It is recommended that you try on a fellow dojo members embroidered obi in order to be able to identify the correct length to order. (Typically the good quality Black Belts are thicker that standard kyu belts and that combined with the additional length necessary to have the embroidery showing will result in a longer length belt - ie: size 5 gi, size 6 or 6 1/2 size obi).



RECOMMENDED OBI SUPPLIERS INCLUDE:

(Shureido Obis)
RYUKYU ENTERPRISES, INC.
438 West Taft Avenue
Orange, CA. 92865
(Ph: 714) 921-0946


(Shureido Obis)
Lil Merriman
c/o CHUCK MERRIMANıS KARATE INTERNATIONAL
170 Flanders Road
Niantic, CT. 06357
(203) 739-4247 * fax (203) 739-7262


(Eosin Obis)
EOSIN PANTHER, INC.
1237 Main Avenue
Clifton, NJ 07011
Ph: (973) 546-1066 * Fax: (973) 340-5474
Web Page: "http://www.eosinpanther.com"


(Meijin Obis)
MEIJIN KARATE UNIFORMS
c/o Dragon Associates, Inc.
P.O. Box 6039
Thousand Oaks, CA. 91359
Ph: (800) 717-6288
Web Page: "http://www.dragon-tsunami.org/DTOnline/equipment/embsamp.html"


All four suppliers produce excellent belts. We recommend that you enclose a copy of the ³Belt Template² to assist in placing your order.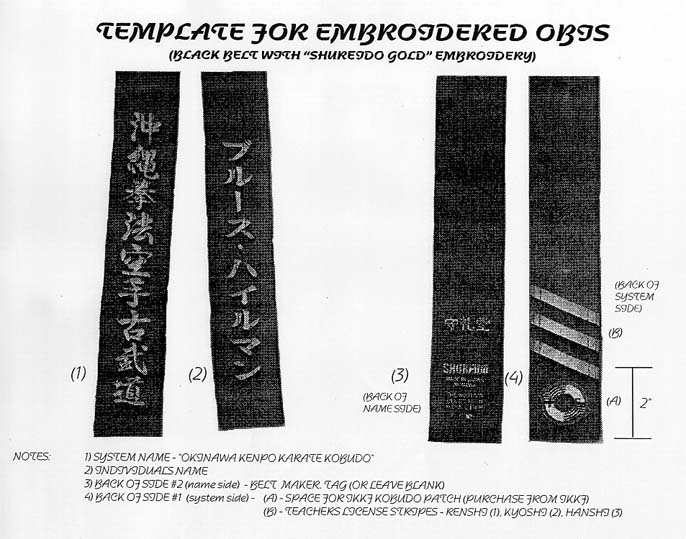 The above graphic illustrates standardized embroidery for an IKKF Obi. for those IKKF Kobudo Members you should use the kanji for "Okinawa Kenpo Kobudo" which is presented in the following graphic.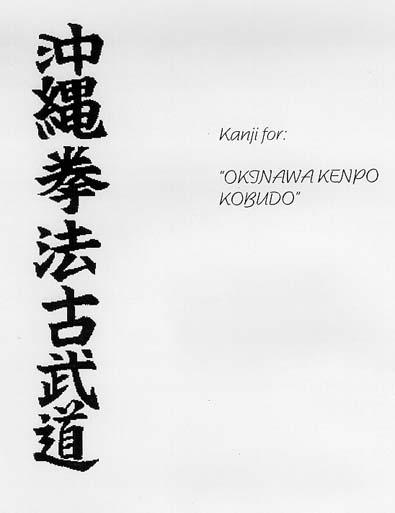 Those IKKF Members who are just involved with our IKKF Kobudo should use the kanji for "Okinawa Kenpo Kobudo" for the "system name" side of your obi.