TRAINING OPPORTUNITIES
As stated in the IKKF Mission Statement, a major focus for the existance of the IKKF is "training, training & more training". The IKKF does not sponsor tournaments. Thus, one can say that the IKKF is a training focused organization.

The IKKF provides a number of training opportunities available to Chartered Dojos or Affiliated Organizations. First and foremost the IKKF Hombu is open for members to visit and train.

Other training opportunities available to the IKKF member include:


IKKF Annual Training & Seminars
IKKF Winter Camp & Seminars
IKKF Hombu Seminars
IKKF Regional Clinics & Seminars
IKKF Video Training Tapes





Participants at recent 1997 IKKF Annual Training held at The Cloisters in Reading, Pa..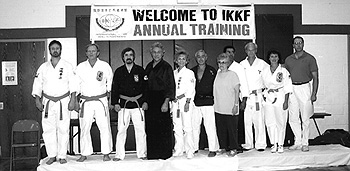 Instructors at 1997 IKKF Annual Training. Instructors include: Hanshis Heilman, Adler, Hawkes & Alexander, Kyoshis Heilman, Bertoletti & Snyder, Shihan Ibarra, Kyoshis Paul & Fierro, and Sensei Morgan .


Group photo of participants at 1996 IKKF Annual Training in Reading, Pennsylvania.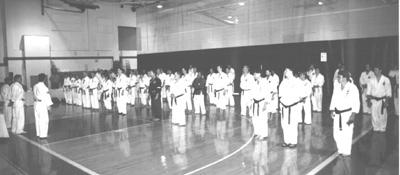 Yudansha training at recent IKKF Seminar in Reading, Pennsylvania.


Hanshi Heilman leading a group of Yudansha working Tekkos at recent IKKF Seminar in Reading, Pa.

---
NOW, you can also train in traditional Okinawa Karate Kobudo or Okinawan Kobudo as taught by Hanshi C. Bruce Heilman, 10th Dan Karate & Kobudo, following the teachings of Okinawa Kenpo system founder Nakamura Shigeru and his successor Odo Seikichi, Okinawa, Japan. Hanshi Heilman is considered one of the top Karate & Kobudo practitioners in the States today!

For information on how you can sponsor a IKKF Seminar in your area, contact IKKF Hombu. Don't delay - schedule your IKKF Seminar today.
Address information for the IKKF is presented below:

Snail Mail:
International Karate Kobudo Federation
102 Cleveland Avenue
Reading, PA 19605 USA
ph (610) 921-3601

E-mail:
ikkf@ikkf.org